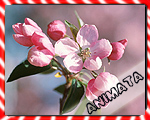 1st of March in Romania

And here we are at the beginning at the Spring! the rebirth of the nature, of the human spirit, everything is alive again under th touch of the spring sun!
Here in Romania, we have a special tradition, Martisor, and its origins are very old, since the Dacians, when they celebrated the day of March 1st. They believed in amulets, which protected them the hole year and brought them luck. Since then we have the symbol of Martisor, the combination of white and red. Red symbolized the Sun, the fire, the passion ,the woman, and white was the symbol of the benefits of water, clouds, winter but also man's intelligence. Brought together.....indeed it had a powerful meening.....

Today we give this amulets in modern shapes and forms but still in the two traditional colors as an apreciacion, as a celebration of spring and as a lucky gift. without it spring wouldn't be the same for us.... and especially for those who sell them..